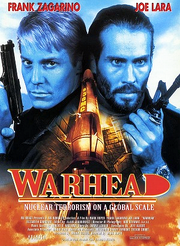 Warhead is a 1996 DTV action thriller directed by Mark Roper and written by Jeff Albert with a story by co-producer Danny Lerner. It is one of various Nu Image film productions released to capitalize on the popularity of blockbusters such as Broken Arrow, Executive Decision and several other mainstream blockbusters. It was followed by a similar film which contained many of the same actors such as Joe Lara and Frank Zagarino in different roles with 1998's Armstrong.
Terrorists seize an American nuclear missile site and threaten to launch nuclear missiles at Washington unless the President resigns immediately and $1 billion is placed in a Swiss account in 8 hours. The only person who can stop them now is a brilliant scientist and a Special Forces agent.
Cast of Characters
Edit
Elizabeth Giordano - Dr. Jessica Evans
Brian O'Shaughnessy - Gen. Edwards
Michael McCabe - Dr. Evans
Ian Yule - Colonel #1
Ross Preller - P.J
Alan T. Marks - Spotter
Jamie Bartlett - Wilson
Joe Da Silva - Joyce
Grethe Fox - Victoria Palmer
Greg Poustie - Cpl. Whitey Jackson
Community content is available under
CC-BY-SA
unless otherwise noted.