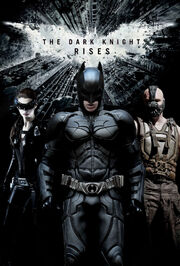 The Dark Knight Rises is the third and final installment in Christopher Nolan's Batman trilogy. It was distributed by Warner Bros. Pictures and based on DC Comic's best-selling Batman series. It was released July 20, 2012 in the United States.
Synopsis
The film revolves around an injured Bruce Wayne/Batman (Christian Bale) who after a brutal fight with head terrorist Bane (Tom Hardy), must find both the mental and physical strength he can. With this, he hopes to regain the skills needed to get back on his feet and help Gotham police take back control of the city from Bane and his mercenaries, all with the help of his allies, Selina Kyle/Catwoman (Anne Hathaway), Commissioner James Gordon (Gary Oldman), Lucius Fox (Morgan Freeman), Deputy Police Commissioner Peter Foley (Matthew Modine) and Detective John Blake/Robin (Joseph Gordon-Levitt).
Trivia
The film was met with positive reviews by some leading critics while others found it to be a lackluster disappointment compared to what director and writer Christopher Nolan had delivered with the first two films.
Critics and fans have noted the similarities to films such as the original Die Hard and it's second sequel Die Hard with a Vengeance.
Gallery
Community content is available under
CC-BY-SA
unless otherwise noted.