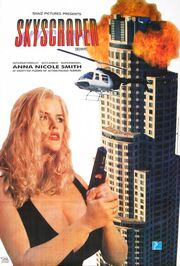 Skyscraper is a 1996 direct-to-video independent action film. It was released on July 24, 1996 and was directed by Raymond Martino.
The plot borrows heavily from the first Die Hard, with the action being mostly set in a high-rise skyscraper which has been taken over by armed criminals.
Skyscraper stars Anna Nicole Smith as Carrie Wink, a heli-taxi pilot and wife of LAPD detective Gordon Wink. One day, Carrie flies a South African man named Fairfax to the Zitex building in downtown LA. She is unaware that Fairfax is a ruthless criminal mastermind who seeks to steal four interlocking electronic devices with the power to change the world. While trying to steal the final device, a shootout erupts between Fairfax's men and his contact Cranston. Although Cranston is killed, he manages to hand the device to Carrie. When Fairfax takes those inside the building hostage, it's up to Carrie to find a way to rescue them and defeat Fairfax.
Community content is available under
CC-BY-SA
unless otherwise noted.