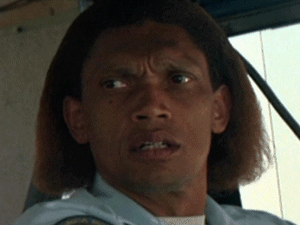 Sam is a bus driver who drives the Santa Monica Transit commuter bus no.2525 and is Annie Porter's friend. He was portrayed by Hawthorne James in Speed.
Character Summary
Edit
Sam is first seen in the corner of Ocean Park & Main ready to leave until her friend named Annie Porter who nearly left behind boards his bus. Unknown to him his bus is rigged a bomb which will go off in the speed drops below 50. When a LAPD officer, named Jack Traven, boards the bus and explains the situation to Sam a paranoid passenger mistakes Jack came to arrest him, threatens Jack with a gun, another passenger name Ortiz who realizes the passenger is endangering themselves, restrains him accidentally shoots Sam in the arm in the process, prompting Annie to take over the wheel. Sam then tells Jack to look in the access panel where the bomb is and Jack inform this to Harry. When they reach the freeway, the bomber Howard Payne lets Sam get off the bus into the police trailer truck to treat his wound.
Sam was not seen after this, but it can be assumed that he probably is in the hospital recovering from his injuries.
Community content is available under
CC-BY-SA
unless otherwise noted.