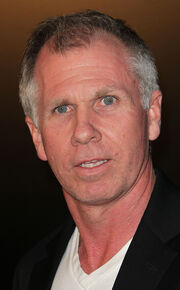 Richard Wenk (born 1956 in Plainview, New Jersey, USA) is a screenwriter and director.
Wenk has also written and directed comedy films such as 1986's Vamp and 1999's Just the Ticket. In 2002, Wenk co-directed the horror thriller Wishcraft. In 2011, he co-wrote the remake of the Charles Bronson film of the same name, The Mechanic, starring Jason Statham. In 2012, he was one of four people credited for the screenplay for The Expendables 2 (starring Statham, Sylvester Stallone, Bruce Willis, Dolph Lundgren, Randy Couture, Jean-Claude Van Damme, Jet Li and Arnold Schwarzenegger).
Other notable writing credits include: 2006's 16 Blocks (in which he also played an ADA Detective in) and 2014's The Equalizer.
Community content is available under
CC-BY-SA
unless otherwise noted.