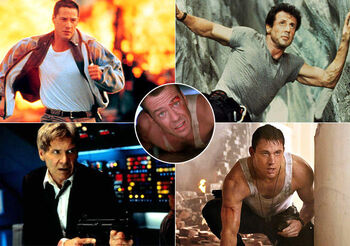 This is a detailed list of all the Die Hard Scenario movies and TV shows out there. For a list of actors who appeared in these films and shows, see here.
For a list of the Die Hard scenario filmmakers, see here. Some of these filmmakers were also primarily inspired by Steven E. de Souza's material for the first Die Hard film as well as his script work for 1985's Commando. Please also note that some of these Die Hard Scenario films might be far more inspired by its sequels, or the various similar films (High Noon, Runaway Train, Game of Death, Dog Day Afternoon, Airport, The Towering Inferno, The Bullet Train, Speed, The Fugitive, Reservoir Dogs, Cliffhanger, Broken Arrow, The Rock, Executive Decision, Man on Fire, Hard Boiled, Enemy of the State, Taken, Mission: Impossible, Buried, 24, The Unit, Spooks, Panic Room, Tom Clancy adaptations and either version of The Desperate Hours, The Taking of Pelham One Two Three or Assault on Precinct 13) rather than the original 1988 Die Hard film.
For a list of Die Hard-type video games, see here.
For a list of comparisons between the Die Hard and James Bond film series, see here.
For a list of films that pre-dated and inspired several Die Hard-type films, see here.
For TV shows that had single or multiple episodes that referenced the Die Hard formula, see here.
This list is incomplete. You can help us by expanding it.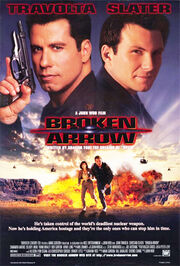 Baadshah: Bollywood film that's a combination of Nick of Time, If Looks Could Kill, the Jackie Chan film Rush Hour and The Mask.
Baazi: A 1995 Bollywood film that steals entire segments and plot points from 1983's Scarface, 1988's Die Hard and 1991's The Hard Way.
Baby (2015)
Badal: 2000 Bollywood thriller heavily inspired by the plot line for 1997's The Devil's Own
Ballistica is filled with action, action and another action! Tough and deadly hand to hand combat with various firearms, Paul Logan stars as the CIA's best weapon against international terrorism. This film is a tough action movie in the style of Die Hard, Commando and 12 Rounds!
Bang Bang!: Bollywood remake of Knight and Day.
Bangkok Dangerous (1999)
The Berlin File: Mash-up of Swiri, Die Hard and The Bourne Identity franchise.
Beverly Hills Cop III: The third installment of the franchise is often described by the original two Die Hard film's writer (who also penned this film) as being "Die Hard in a theme park."
Bichhoo: 2000 remake of Léon: The Professional.
Big Bullet: 1996 action-crime film about special police unit stopping criminals from committing robberies and hijacking a plane with weapons. The finale is much akin to Die Hard 2.
Black Horizon: Another trapped on a satellite that's been set out of control by terrorists by Steve Latshaw, who also wrote Memorial Day and Scorpio One. [128] [129]
Black Sea Raid (A.K.A. Special Forces) (2000)
The Blacksheep Affair (A.K.A. Another Meltdown): 1998 so-bad-it's-good turkey that was packaged in the US as a unrelated sequel to 1995's High Risk (A.K.A. Meltdown).
Blast (1997): Terrorists take over a gymnasium and hold various Olympic hopefuls hostage until a disgruntled detective with a bizarre haircut arrives with the most unlikely solution.
Blast (2004)
The Border (TV series)
The Bourne Identity (2002)
Brake: a troubled yet devout Secret Service agent is trapped in the trunk of a car and physically and psychologically tortured by terrorists seeking information about the President of the United States' whereabouts.
Breakdown [157]: An action thriller with elements of Deliverance, Die Hard, The River Wild and either version of The Vanishing.
Breaking News: In this Johnny To Hong Kong action thriller, this formula comes off as "Die Hard-in-an-apartment-complex" with some cat-and-mouse intrigue laden here as well.
Brick Mansions: Remake of District B13.
Broken Arrow: USAF pilot Captain Riley Hale and park ranger Terry Carmichael battle Hale's mentor Major Vic Deakins and his group of rogue military operatives who stole 2 nuclear weapons from a stealth bomber on a desert.
Danger Beneath the Sea: 2002 telefilm clearly influenced by Crimson Tide and The Hunt for Red October among other low-budget submarine film productions. [238]
Dante's Peak: Another enclosed disaster film by Leslie Bohem, the writer of 1996's Daylight. [240] [241] [242]
Dark Descent: Another Outland clone, which itself was a clone of the High Noon formula.
The Dark Knight: While the film has been known to be compared to 1995's Heat, others have interpreted it as also containing shout-outs to films much like Se7en, Speed and Die Hard 3 [243][244] [245] [246] [247]
Dead End City: 1988 film released post-Die Hard that plays as a derivative mash-up of Assault on Precinct 13 and Escape from N.Y. [254]
Dead Fire: a film that pre-dates Lockout revolving around scientists and a spaceship crew battling a gang of criminals on a space station.
Dead Man's Trigger: Online web series with Hassan Johnson as a man racing against time to stop a bomb from going off in this one season series.
The Deadliest Lesson (2008) [261]
Deadlocked: Another thriller similar to The Negotiator.
Deadly Heroes: A rather low-budget Die Hard 2-type rip-off that went straight to video.
Death Machine: Another low-budget film with segments taken from Die Hard and Alien.
Death Squad: An all-star B-movie cast join a 2014 futuristic concept that's a cash-in on The Expendables franchise.
Death Train (2003)
Death Train (2006)
Deadline: Sirf 24 Ghante: Bollywood remake of Trapped (2002 film).
Deadly Outbreak: Sergeant Dutton Hatfield is pitted against terrorist leader Colonel Baron and his men who have taken over a chemical plant in Tel Aviv.
Default: Another low-budget plane hijacking thriller but this time done in the found-footage style. [262]
The Defender (2004) [263]
Derailed: NATO operative Jacques Kristoff battles terrorists who hijacked an passenger train to search and steal a weaponized, ultra-virulent strain of smallpox.
Detonator (1993 Pierce Brosnan film) (A.K.A. Alistair MacNeill's "Death Train")
Detonator (2003)
The Detonator [280] (2006 Wesley Snipes film)
Dhoom 2: Remake of Day of the Jackal (1973), Mission: Impossible II (2000) and Payback (1999). Scenes are copied from After the Sunset (2004), The Thomas Crown Affair (1999), xXx (2003) and Entrapment (1999) with touches of Shalimaar (1978).
Die Hard: Off-duty New York cop John McClane battles German terrorist Hans Gruber and his internationally based group who seize control of Nakatomi Plaza on Christmas Eve.
Die Hard 2: Die Harder: John McClane battles renegade ex-military commandos who took control of Dulles International Airport.
Die Hard with a Vengeance: John McClane and shopkeeper Zeus Carver tried to find terrorist mastermind Simon Gruber and his men who is setting bombs in New York to distract them from their own agenda.
Diplomatic Siege: The Romanian embassy is taken over by terrorists and it's up to a bomb expert to stop them. 
Disaster Zone: Volcano in New York: Low-budgeted 2006 telefilm clearly inspired by 1997's Volcano.
District B13- Mash-up of elements from Die Hard and Assault on Precinct 13 as well as Transporter and Escape from New York.
Don't Die Too Hard!: French parody of the general Die Hard premise.
Doom: 2005 adaptation of the popular video game that bares far more resemblance to Predator, Aliens, Ghosts of Mars, Deep Rising and Starship Troopers with mild shades of Die Hard and Event Horizon. [289] [290]
The Double: A 2011 action thriller in the style of Jason Bourne and the Taken franchise.
Double Face: Sen'nyû sôsa hen (2012): Japanese telefilm remake of Infernal Affairs.
Dragon Fighter: A mishmash of Reign of Fire, Aliens, "24", Jurassic Park and other Die Hard type elements.
Dredd: Judge Dredd and his rookie partner Judge Anderson are trapped in the 200-story building owned by homicidal drug lord Madeline "Ma-Ma" Madrigal and her gang.
He Who Dares: Downing Street Siege: Sequel to the poorly received He Who Dares.
Heaven's Fire: A family friendly take on a "Die Hard-in-a-hospital" setting.
High Risk (A.K.A. Meltdown): A Hong Kong police bomb squad man, Kit Li, becomes a stunt double for a famous HK movie star after losing his wife and child to a bus explosion. The same terrorist gang of criminals responsible end up crashing a hotel gala party in order to steal some expensive jewelry. Kit ends up goofing up the terrorist's plans when they avoids being shot at in a parking lot and realizes that the movie star he works with is in the same besieged building.
Hijack: 2008 Bollywood action thriller with terrorists taking over a plane.
The Hit List: 2011 action film that borrows from Collateral as well as rips off other hit 80s films like The Terminator police station shoot-out.
Hitman: 2007 videogame adaptation of the popular video game series of the same name with moments similar to Léon: The Professional. Writer Skip Woods would later incorporate a helicopter ambushing a building scene similar to this movie's scene in A Good Day to Die Hard.
Hitman: Agent 47 (2015)
Home Alone 3: A resourceful young boy gets into a battle of wits with four international terrorists looking for a missile chip in his neighborhood. 
Home Invasion (2016 film)
Hostage: 2005 adaptation of the Robert Crais crime thriller novel of the same name.
Hostile Takeover (2001)
Hostile Takedown (2005)
The Hunt for Red October: Loose adaptation of the Tom Clancy novel but has much of the same modus operandi as one comes to expect from John McTiernan's work. [494]
Icebreaker- 1999 Action-Comedy film with Sean Astin playing a vacationing man who helps thwart a hostage situation by a group of terrorists (led by Bruce Campbell) at a tourist attraction.
The Ignorance of Blood (A.K.A. La ignorancia de la sangre)
Indian (2001 film): Another Bollywood crime drama which ends with the hero having to get a bus rigged with a bomb out of the city.
Infernal Unfairs: 2004 parody of Infernal Affairs
Intrepid (A.K.A. Deep Water)
Iris (A.K.A. Ailiseu): Another anti-terrorism espionage series from the creators of Swiri and with elements of Die Hard and 24.
Iris II: Follow-up series to Iris.
Iris: The Movie: Edited episodes of the series merged with new footage to form a feature length film.
Irresistible Force (1993)
La Horde (A.K.A. The Horde)
Land of the Free: Another PM Entertainment Group, Inc. production with many scenes stolen from Die Hard.
The Last Blood (A.K.A. Ging tin 12 sou si or 12 Hours of Terror): 1990 Hong Kong film starring Andy Lau, which was advertised in other countries as being an unofficial sequel to Hard Boiled, due to both films ending in a hospital stand-off. [582]
The Last Boy Scout: Ode to buddy cop movies with another violent tale pitting a John McClane-esque hero against more overwhelming odds.
The Last Castle: The Rock meets The Shawshank Redemption. [583]
Last Man Standing: This remake of Akira Kurosawa's Yojimbo plays off more like Die Hard in period clothing. [585] [586] [587]
The Last Siege: Never Surrender (A.K.A. Hijack): A former ATF agent stops a terrorist organization from executing a Presidential candidate and his staff on a train headed to the candidate's campaign state.
Lethal Tender: A team of terrorists seize a water purification plant and threaten to pollute a city's entire drinking supply. However, the attack is in fact a cover-up of an in-progress robbery and their attack gets thwarted by an off-duty detective and female plant worker.
Liberty Stands Still: Much like Blown Away and Speed came out around the same time, this film bares much resemblance to Phone Booth.
License to Kill: While the film is trying to be far more faithful to the source material and was shot around the same time as the original Die Hard, it still shares much in common with the style of that film as well as a Joel Silver production such as 1987's Lethal Weapon. It also notably is rather similar to some revenge films such as the pre-DHS film Commando and the TV series "Miami Vice"; later on, it's style and similar plot lines were recreated in 2008's Quantum of Solace. [599] [600] [601] [602] [603] [604] [605] [606] [607] [608] [609]
Lima: Breaking the Silence: Unlike like some movie sites indicated, this isn't at all factually related to the actual 1997 incident in Lima. It is instead another action film where a hostage situation must be defused.
Live Free or Die Hard: John McClane and hacker Matt Farrell battle an internet-based terrorist organization, led by a former member of the United States Department of Defense, who are systematically shutting down the United States.
Live Wire: A film about a FBI bomb squad member who attempts to stop a terrorist group that's responsible for a water-created bomb causing people to explode. Promoted as a mix between Die Hard and Patriot Games.
Loaded Weapon 1: A National Lampoon parody of Silence of the Lambs as well as the Die Hard and Lethal Weapon franchise.
Lockout: Wrongly imprisoned CIA agent Marion Snow infiltrates a orbital space prison to battles inmates who taken control of it and rescue Emilie Warnock, the daughter of the President of the United States. Often cited as being a mash-up of Taken, Die Hard and Escape from New York in outer space. [613] [614] [615]
London Has Fallen: Long-awaited follow-up to Olympus Has Fallen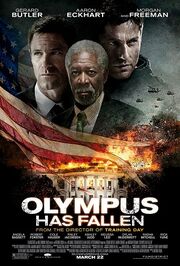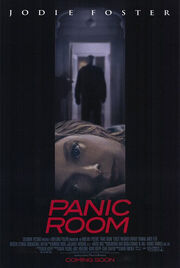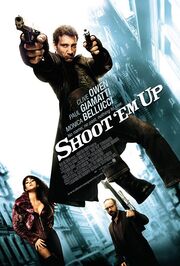 Sacrifice (2011 film): Another Man on Fire styled action-crime thriller. [910] [911]
Safe: Mercury Rising with elements of Die Hard, Hard Boiled and Taken
Safe House (1998 TV movie) [912]
Safe House (2012)
Safehouse (2008)
Score: Hong Kong action film inspired by Hard Boiled and Reservoir Dogs. [919]
Second in Command: 2006 update of The Alamo-meets-Assault on Precinct 13. [926]
Serial Bomber (A.K.A. Countdown)
Shakedown (2002 film)
Sharpshooter: A stylish cash-in on the Shooter type movie formula.
Shattered (2007) (A.K.A. Butterfly on a Wheel)
Shelter (1998 film)
Silent Hunter: 1995 low-budget action film about a hero, who's half John McClane, half Rambo and set in a Cliffhanger type setting.
Silent Night, Zombie Night: Die Hard in an apartment with zombies during pre-Christmas week. [963]
Silent Trigger: Uncanny 1996 tale about an assassin fighting enemy opposition from within a building where he must defend himself while also executing a bounty via sniping the target.
Silent Venom: A low-budget Fred Olen Ray production cashing in on the Snakes on a Plane craze but this time having it be set on a submarine.
Skyfall (this almost makes one wonder if any 90s or earlier 00s 007 film is fair game to add as well): Noted as resembling various portions of The Dark Knight, Live Free or Die Hard and Home Alone by multiple critics.[984] [985] [986]
Snakes on a Train: Mockbuster by intentionally awful movie company The Asylum.
The Sniper (2009)
Someone Like You: 2009 Tamil-language film that's a remake of 2008's A Wednesday!. [1,013]
Space Mutiny [1,016] [1,017] [1,018] [1,019] [1,020] [1,021] [1,022] [1,023] [1,024] [1,025] [1,026] [1,027]
Speed: Los Angeles SWAT officer Jack Traven and passenger Annie Porter try to save the passengers of a bus held hostage by vengeful bomber Howard Payne when he rigged to blow if the bus goes below 50mph.
Speed 2: Cruise Control: SWAT officer Alex Shaw and Annie Porter tries to save crazed computer genius John Geiger who takes over the cruise ship's computer control systems.
Stand Off (1994 telefilm): Another Dog Day Afternoon stylized hostage thriller. [1,039]
Star Runners: 2009 telefilm that rips off The Fifth Element and Star Wars while also having plenty of homages to similar films such as Die Hard, Aliens and the Doom video game. [1,043] [1,044]
Stash House: Described as Panic Room-meets-Hostage and stars Dolph Lundgren.
Stolen: 2012 rip-off of the typical formula followed in the Die Hard and Taken films.
Storm Catcher: It's a 1999 low-budget rehash of Broken Arrow with Robert Miano as the main villain and Dolph Lundgren as our heroic protagonist.
Stranglehold (1994)
Sudden Death: Disgraced ex-Pittsburgh firefighter Darren McCord tries to stop ruthless ex-government agent Joshua Foss and his group who seized an ice arena and rigged bombs on it during game 7 of NHL Stanley Cup finals game.
Submerged (2000)
Submerged (2005 Steven Seagal film)
Submerged: 2015 film by the director of the upcoming Bruce Willis film Extraction.
SWAT: Unit 887 (A.K.A. 24 Hours): A 2015 action thriller starring Michael Paré and Tom Sizemore which is a blatant rip-off of the TV series "24".
Swiri (A.K.A. Shiri): This 1999 action-thriller follows two federal agents trying to stop a villain from launching an attack that could cause an all-out war between the North and South provinces of Korea. Promoted in the United States as being a blend of both John McTiernan's Die Hard and Luc Besson's La Femme Nikita.
Swordfish: A cyber techno-thriller that later reused elements in Live Free or Die Hard. The film follows a cyber hacker anti-hero who must save his daughter from a unusual terrorist gang pulling off an uncanny heist that isn't what it seems at first. The film even steals elements from Speed and Broken Arrow. [1,088] [1,089] [1,090] [1,091] [1,092] [1,093]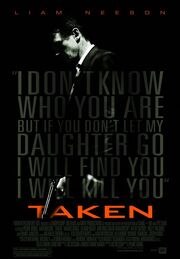 The Taking of Pelham 123: Another remake of a pre-Die Hard scenario film that while referencing the original source material, also references Speed and has a twist ending that's been noted as being rather similar to Die Hard with a Vengeance.
The Target (2014): South Korean remake of Point Blank (2010 film).
Tathastu: 2006 Bollywood remake of 2002's John Q, starring Denzel Washington.
The Terror Experiment: an action-horror film where a man must escape a plaza taken over by zombies using fire escape equipment.
Tezz: this Bollywood action thriller has heavy influences of Speed, 1975's The Bullet Train and the original The Taking of Pelham One Two Three.
Tides of War (A.K.A. U.S.S. Phantom: Poseidon Below) [1,111]
Time Bomb (2006 telefilm)
To Die is Hard: 2010 low-budget Die Hard parody. [1,113]
Total Recall: Paul Verhoeven's loose adaptation of Philip K. Dick's "We Can Remember it For You Wholesale!" also mocks action films of that current period. [1,118] [1,119] [1,120] [1,121] [1,122]
Total Recall (remake) (2012 rehash): [1,123] [1,124] [1,125] In this version of the Philip K. Dick novel, director Len Wiseman (who noted how he wanted to make his action heroes be much like the ones in the Lethal Weapon and Die Hard films) and writer Mark Bomback conduct a mishmash closer in tone to the original novel while also baring resemblance to Minority Report and the Jason Bourne films.
Tower Heist: Heist comedy with nods to many other heist films including the remakes of Ocean's 11 and Die Hard. [1,128]
Tracers [1,139] [1,140] [1,141][1,142] [1,143]: Another Parkour action thriller by the writer of Daylight and Volcano and in the style of District B13 and Premium Rush.
Training Day [1,144] [1,145] [1,146] [1,147] [1,148] [1,149] [1,150] [1,151] [1,152] [1,153] [1,154] [1,155] [1,156] [1,157] [1,158] [1,159] [1,160] [1,161]
Trespass (1992)
Trespass (2011 home invasion film with Nicolas Cage and Nicole Kidman) [1,173]
Tumko Na Bhool Paayenge: 2002 Bollywood remake of The Long Kiss Goodnight.
Turbulent Skies: Another low-budget rip-off of the 1996 blockbusters Executive Decision and Broken Arrow.
Twister: Another Jan de Bont thriller. [1,183]
Typhoon (A.K.A. Tae-poong): 2005 South Korean action film in the vein of Hollywood blockbusters such as The Rock, Broken Arrow and The Peacemaker and other S. Korean films such as Swiri.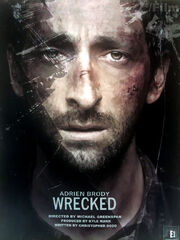 Wake: Rather delayed film about a Caribbean island under siege by thieves and pirates. Originally was supposed to star Bruce Willis but the actor dropped out once the film was beset with financial funding issues. [1,204]
Walking Vengeance (A.K.A. Solo Quiero Caminar) [1,209] [1,210]
War (A.K.A. Rogue Assassin) (2007): Noted as being similar to various Hong Kong films let alone sharing plot similarities with Face/Off and Ballistic: Ecks vs. Sever and being marketed similarly much like Heat and Black Rain. [1,213] [1,214] [1,215]
Warhead: Another Nu Image Films production promoted as another film in the style of Broken Arrow and Executive Decision on it's Laserdisc release.
White House Down: U.S. Capitol policeman and failed Secret Service applicant John Cale tries to protect President James Sawyer and rescue his daughter when a paramilitary group seizes control of the White House, while also discovering that World War III may be on the horizon.
Whiteout (2000)
Windfall: 2003 heist film with elements of Hard Rain (set during a hurricane) and Top of the World (stranded in a casino) [1,219].
World War Z: Based on the best-selling book of the same name, the first of various other films contains similar themes and elements like that of Aliens, 28 Days Later and Contagion while also having Brad Pitt feature as a John McClane type character. [1,222] [1,223] [1,224] [1,225] [1,226]
The Wrecking Crew (2000)
You're Next: This Action-Horror film was inspired by Scream, Home Alone, Die Hard and Straw Dogs. [1,233]
Community content is available under
CC-BY-SA
unless otherwise noted.