"I despise rapists. For me, you're somewhere between a cockroach and that white stuff that accumulates at the corner of your mouth when you're really thirsty. But, in your case, I'll make an exception."
―Cyrus Grissom to Johnny 23.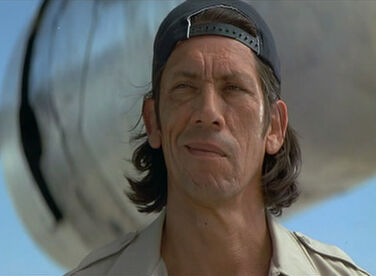 John "Johnny 23" Baca
was an convicted serial rapist and an antagonist in the movie
Con Air
. 
He was portrayed by Danny Trejo. 
Johnny 23 was a Spanish serial rapist, and got his nickname from the number of women he had raped. Placed on the con air flight for transfer to a different prison, Johnny helped take over the plane but was threatened numerous times by Cyrus "The Virus" Grissom, who told him that he despised rapists but if he attempted to rape the female guard, Bishop, he would throw him out of the plane. Johnny helped to warn the inmates that the National Guard was approaching after they made an emergency landing in Carson City, Nevada, allowing them to fly off again. 
The plane wound up crashing into the Las Vegas strip and a propeller flew through the plane. Johnny was last handcuffed to the ceiling, so the propeller sliced his arm off and he bled to death. Johnny's body was taken away but his severed arm was still hanging on the handcuffs. 
"They'd call me Johnny 600 if they knew the truth!"
"When you wake up, Bishop, I'll be Johnny 24."
"Do you fly, Johnny?" "No." "Keep that in mind, because if your dick jumps out of your pants, you jump off this plane." (Cyrus threatening Johnny)
Community content is available under
CC-BY-SA
unless otherwise noted.