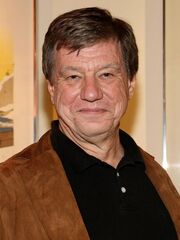 John McTiernan, Jr. (born January 8, 1951) is an American filmmaker, best known for his action films.
McTiernan is most identifiable with the three films he directed back-to-back: Predator (with Arnold Schwarzenegger and Henry Kingi), Die Hard, and The Hunt for Red October (with Sean Connery, Sven-Ole Thorsen, Boris Lee Krutonog and Tomas Arana) along with later ones like the second Die Hard sequel, the Michael Crichton adaptation The Thirteenth Warrior (with Antonio Banderas and Tony Curran) and the 1999 update of The Thomas Crown Affair (with Pierce Brosnan). His last few credits were the poorly received 2002 remake of Rollerball and the 2003 action-packed mystery-military thriller Basic (with John Travolta and Samuel L. Jackson).
More recently, McTiernan was in the news for his criminal conviction in the Anthony Pellicano wiretapping scandal, for which he is currently released after serving a prison sentence. 
Die Hard Scenario films
Edit
Community content is available under
CC-BY-SA
unless otherwise noted.