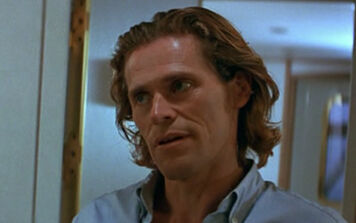 John Geiger
is the deranged, disgruntled main antagonist in the 1997 film
Speed 2: Cruise Control
.
He is portrayed by Willem Dafoe.
Character Biography
Edit
Geiger once worked aboard the Seabourn Legend, a cruise ship whose autopilot system he designed himself. However, he was eventually fired after he got sick from copper poisoning. Geiger, seeking revenge, hacks into the ship's controls and sets the ship to crash into an oil tanker, killing everyone on board, including Annie Porter and her new boyfriend Alex Shaw. Aboard the ship, Geiger hacks into the ship's computer system, and the following evening, he destroys the ship's communication systems and kills the captain by throwing him overboard. After remotely shutting down the ship's engines, Geiger calls the bridge to tell the first officer, Juliano, that the captain is dead and Juliano is now in charge. He is ordered by Geiger to evacuate the ship, during which Geiger steals jewelry from the ship's vault. As passengers evacuate, Drew, a young deaf girl, becomes trapped in an elevator, and a group of people become trapped behind locked fire doors in a hallway filling up with smoke. Annie and Alex try to board the last lifeboat, however, Geiger programs the ship to start moving and the winch lowering the lifeboat gets jammed.
Alex suspects that Geiger is up to no good and attempts to thwart his nefarious plans, but Geiger escapes his clutches and takes Annie hostage on a small boat. At the end of the film, Alex saves the ship from destruction and goes after Geiger, who is about to escape in a seaplane. Using a speargun, Alex catches up to it and rescues Annie just as Geiger loses control of the plane and crashes into the top of the oil tanker. He is unharmed by this, but as he laughs maniacally, a spark ignites in the engine which blows the plane to pieces. This then causes a chain reaction of explosions from one end of the oil tanker to the other, completely destroying it.
Community content is available under
CC-BY-SA
unless otherwise noted.