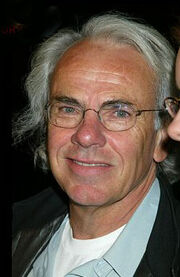 Jan de Bont (born 22 October 1943) is a Dutch cinematographer, producer, and film director.
Early Life
Edit
De Bont was born, one of 17 children, to a Roman Catholic family in Eindhoven, Netherlands. His earliest work after studying at the Amsterdam Film Academy was with the Dutch avant garde director Adriaan Ditvoorst. De Bont was cinematographer/cameraman on many of Ditvoorst's early films including the prizewinning Ik Kom Wat Later Naar Madra (I'll Be In Madra Somewhat Later). He first came to fame in the Netherlands as the cinematographer for the 1973 movie Turkish Delight, directed by Paul Verhoeven, starring Rutger Hauer and Monique van de Ven. Since the early 1980s, he worked frequently in Hollywood.
De Bont made his directorial debut with the action thriller Speed in 1994, which was a surprise hit. He followed this up with the even more successful Twister in 1996. His output since has had mixed commercial and critical success. In 1997 he returned to direct the sequel Speed 2: Cruise Control, which was a commercial and critical failure. In 1999 he directed The Haunting remake (produced by Steven Spielberg for Dreamworks and co-starring Michael Cavanaugh, Liam Neeson and Owen Wilson). It was a commercial success, but heavily panned by critics, receiving five Razzie Award nominations and widely considered one of the worst remakes in cinema history.
Personal Life
Edit
He was married to Dutch actress Monique van de Ven from 1973 to 1988. Monique starred in the 1973 film Turkish Delight, for which De Bont did the cinematography. De Bont has two children from his second marriage with Trish Reeves, Alexander (who had a part in Speed 2) and Anneke (who had a part in Twister).
Die Hard Scenario Films
Edit
Community content is available under
CC-BY-SA
unless otherwise noted.