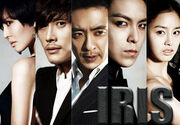 Iris is a 2009 South Korean espionage television drama series, starring Lee Byung-hun, Kim Tae-hee, Jung Joon-ho, Kim Seung-woo, Kim So-yeon and T.O.P (Choi Seung-hyun) of the band Big Bang). It aired on KBS2 from October 14 to December 17, 2009, on Wednesdays and Thursdays at 21:55 for 20 episodes.
With a budget in excess of 20 billion won (17 million in United States dollar), it, along with its spin-off "Athena: Goddess of War", share the record for the most expensive Korean dramas ever produced.[1][2] The series was a critical and commercial success, with an average viewership of over 30% in addition to ranking as the top program consistently every week after its debut.[3] The series also took home many of the highest honors at the 2009 KBS Drama Awards, including Lee Byung-hun winning the top recognition, the Daesang Award. Among other nominations and recognitions, Lee and Kim Tae-hee were also named as one of the best on-screen couples.
The plot revolves around two friends from the 707th Special Mission Battalion recruited into a secret South Korean black ops agency known as the National Security Service. Of the pair, recruit Kim Hyun-jun begins to uncover evidence that his foggy past may not be so irrelevant to his joining of the secret organization after all. As the two friends find their loyalties tested and forge new, unlikely alliances, the journey takes them from their home country to Hungary, Japan, and China where they find themselves at the center of an international conspiracy.
The success of the series has led to a feature film, a 2010 spin-off, and a sequel series in 2013.
Two elite National Security System (NSS) agents, Hyeong-Jun (Lee Byung-Hun) and Sa-Woo (Jeong Jun-Ho), who were sworn blood brothers, both fall for fellow agent Seung-Hee (Kim Tae-Hee). Sa-Woo attempts to suppress his feelings for Seung-Hee and wishes the couple the best.
Hyeon-Jun is then sent off on a solo mission to Hungary. In Hungary, Hyeon-jun accomplishes his mission and while in escape mode becomes wounded. Shortly later, Hyeon-jun finds out that he was betrayed by fellow agent Sa-woo. Seung-Hee attempts to help Hyeon-Jun escape, but a car explosion separates the two and both are misled to believe that the other person are dead. Hyeon-Jun is then saved by an unknown voice and learns of the secret society "IRIS".
One year later, Hyeon-Jun returns to Korea to seek revenge. During this time, the two Koreas are set to reunify, while the group "IRIS" are intent on stopping the reunification.
Cite error: <ref> tags exist, but no <references/> tag was found
Community content is available under
CC-BY-SA
unless otherwise noted.