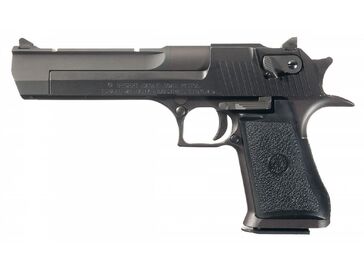 The IMI Desert Eagle
is an Isreali gas-operated, large-caliber pistol.
It was used by Eric Qualen in Cliffhanger.
Description
Edit
Weighing over four pounds, the Desert Eagle was designed in America yet produced in Israel by IMI, creator of the Uzi submachine gun.
The advantage of the gas operation is that it allows the use of far more powerful cartridges than traditional semi-automatic pistol designs. Thus it allows the Desert Eagle to compete in an area that had previously been dominated by magnum revolvers. Downsides of the gas-operated mechanism are the large size of the Desert Eagle, and the fact that it discourages the use of unjacketed lead bullets, as lead particles sheared off during firing could clog the gas release tap, preventing proper function. It also features a triangular muzzle, which helps with accuracy.
Switching a Desert Eagle to another chambering requires only that the correct barrel, bolt assembly, and magazine be installed. Thus, a conversion to fire the other cartridges can be quickly accomplished. The rim diameter of the .50 AE (Action Express) is the same as the .44 Remington Magnum cartridge, consequently only a barrel and magazine change is required to convert a .44 Desert Eagle to the larger, more powerful .50 AE round. The most popular barrel length is 6 in (152 mm), although a 10 in (254 mm) barrel is available. The Mark XIX barrels are machined with integral scope mounting bases, simplifying the process of adding a pistol scope.
The Desert Eagle is fed with a detachable magazine. Magazine capacity is 9 rounds in .357 Magnum, 8 rounds in .44 Magnum, and 7 rounds in .50 Action Express. The Desert Eagle's barrel features polygonal rifling. The pistol is primarily used for hunting, target shooting, and silhouette shooting.
Appearances
Edit
Community content is available under
CC-BY-SA
unless otherwise noted.