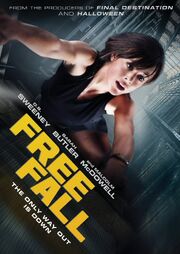 Free Fall is a 2014 action-thriller which premiered on the internet and was later released to home medium (Blu-Ray and DVD). It stars Sarah Butler, D.B. Sweeney and Malcolm McDowell. It is written by Dwayne Alexander Smith and directed by Malek Akkad. It is often considered to be another Panic Room and Die Hard inspired thriller.
An employee, working for Gault Capital in L.A, gets targeted by a ruthless assassin and locked in the elevator after she uncovers a chilling secret.
When the sudden and shocking death of a coworker sends everyone reeling at Gault Capital, JANE, uncovers a very dangerous secret. Her boss, charismatic billionaire Thaddeus Gault, is suspected of massive financial fraud. An assassin, FRANK, is dispatched to silence her forever. Jane's flight from the office is forestalled when her pursuer shuts down her elevator. Now, trapped and alone, Jane must find a way to escape her steel cage before the killer reaches her. This brooding and relentless thriller plunges our heroine, Jane, into a free fall of betrayal and terror. To survive Jane must find the inner strength and courage to defeat the powers that hold her and her dreams captive by fear.
Community content is available under
CC-BY-SA
unless otherwise noted.